Bridge Replacement Project
---
This project consisted of bridge replacement, roadway widening and construction.
Services provided by W.H.P. included NEPA Documentation, Survey and Design.
Project Details
Client: Shelby County & City of Memphis
Design Fee: $770,000
Construction Cost: $9 Million
Completion Date: 2016
Shelby County and the City of Memphis determined that the existing bridge, constructed in 1953, had experienced significant deterioration and outlived its useful life.  W.H. Porter Consultants was awarded the contract for this half-mile survey and design project.  This TDOT Locally Managed Project will utilize local funds along with State Aid Bridge Project funds to construct the bridge and approaches.
Project Scope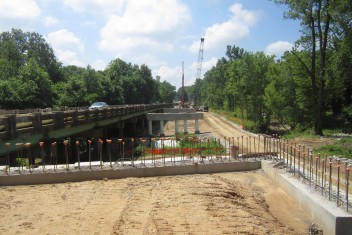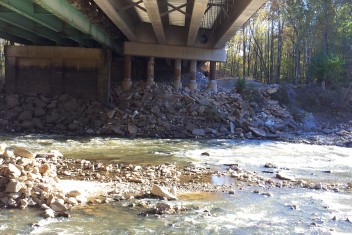 The project consists of constructing approximately 1000 linear feet of concrete bridge (on concrete beams with concrete-filled steel pipe piling) and its roadway approaches. The project requires widening the existing roadway from two-lane to four-lane with shoulders and curb & gutter. The proposed typical section consists of four (4) 12-ft traffic lanes, 12-ft shoulders, with 6-ft bicycle/pedestrian lanes striped on the shoulders. As a result of the bridge replacement, the alignment along the bridge will be shifted approximately 12 feet to the west, which will allow continued use of the existing bridge during the first phase of construction. Traffic will then be shifted to the two (2) newly constructed lanes while demolition of the existing bridge occurs, followed by construction of the remainder of the proposed bridge and approaches. This way Raleigh-Millington Road will remain in operation for the entirety of the project, with minimal inconvenience to the traveling public. WHP prepared the NEPA documentation, resulting in an approved Minor TEER (Tennessee Environmental Evaluation Report). In addition, WHP assisted the County/City with bid administration.